What Is FastTrack MyCashFreebies Network And What Can You Do With It?
---
BIG CHANGES FOR 2015!
Throughout 2014, we tested a promotional idea called "Residual Bonuses". In theory, this should have been an awesome promotion for most, since it meant that you would receive bonuses over time as your referrals and their referrals placed orders. In practice, having talked to many of you about what you liked and what you would like to see, it is obvious that you wanted your bonuses RIGHT OFF THE TOP!
Big Changes!
Since January 1st, 2015, there is no longer a residual bonus system in place on the standard MyCashFreebies sites. The residual bonus page is no longer available, and there is no longer any residual bonus activation on the Profile page. All information and Terms regarding the residual bonus system have been removed, and the sites are back to normal operations.
-BUT-
There IS an AMAZING 30% bonus on the top of ALL orders placed on ALL sites! (YES, this will include the $10 sites!) This will be our standing promotion on MyCashFreebis until March 31st, 2015. But you can bet it will only get better from here! Back to business as USUAL prior to our testing of the Residual Bonus system! So, here is a breakdown of payouts to you for your orders:
All $10 Site orders will get a payout of $13 per referral!
All $20 Site Orders will get a Payout of $26 per referral!
All $30 Site Orders will get a Payout of $39 per referral!
All $40 Site Orders will get a Payout of $52 per referral!
All $60 Site Orders will get a Payout of $78 per referral!
All $80 Site Orders will get a Payout of $104 per referral!
All $100 Site Orders will get a Payout of $130 per referral!
AWESOME!
Also, all of the $10 sites are now ONE CREDIT sites. This is so your referrals will have full access to all of the offers available to them, at awesome credit values, and be able to complete these sites easier. They will STILL be able to complete these sites with only one offer, but will have the option, and a LOT more offers to choose from. This also makes it possible for us to tack the 30% bonuses on to these $10 sites!
And so you know: We will be keeping the BEST in advertiser offers, as well as keep some of the highest and most competitive offer credit values in the industry. We will also be running some random promotions over 2015 that will knock your socks off! So keep watching this page for the latest and greatest promotions in the industry!
About MyCashFreebies
"My Cash Freebies" joined our group of Freebie Networks in January, 2010, which includes Paradise Freebies and Free Treasure Chest. Our networks have been in business now since October, 2009, and during that time, we have established ourselves as a trusted and valued entity in the incentive freebie industry. Through a targeted incentive market, we have been able to acheive a strong relationship with our affiliates, advertisers, and our valued members. You can look forward with confidence as you complete offers and refer others to any of our 40 sites across 3 networks, and receive excellent FREE gifts and PayPal payments for doing so! To date, we have shipped over FIVE MILLION in cash and prizes, and continue to grow in this referral based industry. We look forward to being of service to both you and those you refer to us. For a full list of all of the current "My Cash Freebies" sites, Click Here.
How It Works – Please Read Completely!
Welcome! First, let me say that the process itself may seem difficult, but it is actually very simple. Advertisers want to get consumers to try their products or services, so they offer free trials, discounts, etc… to get people to try their products or services. But they need a place to advertise these trials. One method is to hand these trials over to affiliate networks to handle the advertising for them.
The affiliate network is an agency that handles the advertising of products and services for any number of different advertisers. One method that they use to achieve this is called "incentive advertising", which means that they offer incentives (free gifts) to people that try the advertisers product or service. That's where we come in.
A freebie site, such as the one you are on now, is basically an outlet for the affiliate. We provide web space to place the ads, and offer those ads to the public. But the system has evolved into what is called the "referral" system.
If you are here, more than likely you were "referred" by someone else to complete offers on the site. Then in turn they place an order with our network for their free gift (incentive). The system then continues, in that once you have completed your offer requirements for the person who referred you, you can then send your own referrals to the site, and do the same thing for them, and so on…
I Was NOT Referred Here, and Found The Site On The Internet:
If you were NOT referred to the site you came to, or found us through Google or on the internet somewhere, and wish to use our services to get incentives, then all you have to do is complete the offer requirements on the site yourself. We do not pay you for completing the site un-referred. But you have to start somewhere! At that point, you will then be able to refer AS MANY people as you want, unlimited, to do the same thing for you as your referral. You never have to do another offer yourself again! Then, as each of your referrals completes THEIR offer requirement, you place an order on our site for your free gifts, for the full referral value of that site, over and over again!
When you sign up on any of our sites, on the "Status" page you are given your own personal referral link. This link is what ties your referrals to you when they sign up. They must use your referral link when they sign up. You can promote this link however you want, as an email signature, in your favorite forum, around your neighborhood, etc… Please do not spam! Also, make SURE you read our "Terms of Service" so that you know what you should and should NOT do while using our sites. This is VERY important!
Offer requirements vary from site to site. Generally, most sites are "One Credit", "Two Credit" and so on. What this means is this: If a freebie site is a "One Credit" site, it means that you just have to complete enough advertiser offers to meet the offer requirements for that site.
A "Credit" site just means that the offers on that site are broken down into various credit values, or "weights". On these sites, you will see that there is a "value" given to each offer. It may be anything from .05, .25, .33, .50, etc. To reach your offer requirements on credit sites, the goal is to reach the credit value of the site. If it is a "One Credit" site, you would need to do enough offers to reach "one" full credit. In otherwords, you might do a .50 credit offer, and two .25 credit offers to reach the goal of "One Credit" and meet your offer requirements. This is the same with Two Credit sites, also. You would have to do enough offers to reach "two credits", and so on.
Again, once you have reached your offer requirements, you are then eligible to start sending your own referrals to the site you have completed. There is NO LIMIT to the number of referrals you can send to the sites, so you can see that this can be a very easy way to get just about any free gift you want!
How Crediting Works:
Crediting is performed via cookies, which are simply small text files stored on your computer. Websites can create a cookie in order to store information, and then be able to read back that information in the future.
From your computer, you click on an offer on our website. We direct you through our affiliate partner, who sets a cookie on your computer before directing you to the (offer) advertiser.
After you complete an offer, the advertiser's order confirmation or sign up confirmation page will let the affiliate know that the offer has been completed, at which point they'll read back from the cookie on your computer. If this is successful, they are able to identify who the credit belongs to, and they post that information to our website. The entire process is completely automated.
One thing to note here. Many of the offers will say that they will credit "Instantly". Just so you know in advance, "Instant" in this industry can be anywhere from just minutes to SEVERAL hours. It all depends on server traffic, server load, time of day, etc… etc… So PLEASE have patience for an offer that has not credited immediately.
Crediting Tips:
If crediting fails, it's due to a breakdown in the process mentioned above — usually the ability to save and load cookies to and from your computer. This can be caused by your browser settings, Internet filters such as firewalls or ad-blocking programs, and by user error such as clearing your cookies after they are already set.
First and foremost, we recommend either Mozilla FireFox or Internet Explorer (IE) browsers.
If you are using Internet Explorer, you need to set your browser to Accept All Cookies.
If you are using IE, click the Tools menu, then Internet Options. At the Internet Options screen, select the Privacy tab, then move the slider all the way to the bottom. While you are here, uncheck the option for PopUp Blocker.
Disable the PopUp Blocker. If you are using IE, follow the instructions above on disabling the popup blocker. If you are using Firefox, click the Tools menu, then Options. You'll find the popup-blocker option under the Content tab.
Disable third-party browser add-ons. If you have any extra browser toolbars, such as search bars, you should disable these. Some toolbars, including those from Yahoo and Google, can include popup or ad filters. In Internet Explorer, right-click an empty area of the interface (or click View -> Toolbars), and then deselect those that aren't standard.
When completing an offer… When completing an offer, try to keep the initial browser window on a direct path from the first page to the signup page. For example if you want to read more information about the product/service, or their Terms of Service, open those links in a new window. After you have signed up for the offer, you should be given a confirmation page confirming your registration/order, you should also get a confirmation email. Be sure to let this page fully load before closing or leaving it, as this contains the "pixel" mentioned at the top of this page.
Clearing Cookies. You should clear your cookies before logging in to our site. You only need to clear them one time before logging in; any additional clearing is unnecessary and counterproductive. To learn how to clear cookies in IE, click here. For Firefox, click Tools, then Clear Private Data.
Firewalls, anti-spyware and anti-virus programs. Anti-spyware programs, specifically ones that run constantly in the background, could perceive cookie tracking as an invasion of your privacy and therefore not allow it. If your anti-spyware program is one that actively runs at all times, as opposed to only running when you manually launch it, you should temporarily disable it. Some anti-virus programs also include "privacy protection" features that act in the same way. Programs that are confirmed to have this feature include McAfee, Norton, and Zone Alarm Pro. Examine your antivirus software and if needed, disable those features. If you are unsure, you could temporarily disable the software, if you are comfortable doing so. Firewalls, which filter your internet traffic, could be a hindrance to cookie placement as well, although this is less likely. Windows Firewall is fine, however some other firewall programs could possibly cause problems, and so you may want to temporarily disable them. Look for all of these types of programs in your Notification Area.
---
Proofs and Testimonials
We are constantly striving to give excellence in customer satisfaction. To that end, we provide amazing customer service, amazingly fast order approvals and payouts, and personal attention to each and every one of our members. Besides free gifts, free prizes, and free cash, we are more than willing to do custom orders for our members! Just tell us what you want, and we will tell you how many referrals you need!
Below you will find personal testimonials from many of our members! These are not edited, and are presented here exactly as they were given to us. Please take a few minutes to read through these, so you know exactly what YOU can expect from our sites! We think that you will find these testimonials to be a mind changer if you are sitting on the fence regarding the decision to become a member of the MyCashFreebies Network. We hope you will join our members, and soon put your own testimonials here!
---
Outstanding, thank you so much for the quick responses on the follow-up. What a refreshing surprise, a support system in a program that actually replies in a timely fashion!!! Be sure to notify the managers that a member such as myself is pleased with the support service. Much appreciated.
–Joe Michala
---
I do not know who is behind the computer(s) over there but they are darn great at their jobs… Thank you for your endless help to resolve a problem when it comes about.
RATING: 5 *****'s God bless!! Keep up the great work!! –Nel Mart
---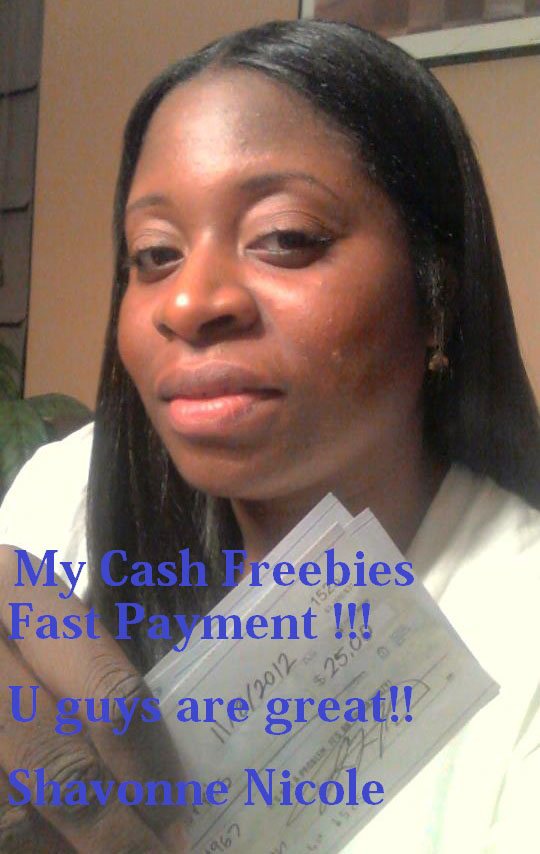 "I have been doing freebies for sometime now, I have to admit that My Cash Freebies is my favorite network. I love the fast payments, and when I have a question I get an Immediate response via email. The folks at My Cash Freebies are awesome and I appreciate their professionalism." Thank you My Cash Freebies,YOU GUYS ROCK!
-Shavonne Nicole
---

My name is Kareem Williams and I wanted to write this testimonial for the Single and the Express my cash freebie sites. These sites are by far the best Freebie sites on the market. They pay fast, they answer your emails in a timely matter and they have great customer service. It was really awesome to have $100 dollars sent to my paypal account in less then 4 hours of me submitting my order. That money kept my cell phone from being cut off. They also awarded me a free green because I could not compete any of the offers on their site because I had did them all on other sites. Now what other freebie site is doing that? Thanks a million for being awesome My Cash Freebies!
Proof Images:

---

"KandyKis1006"
So it started out about a month ago. My 5 year old daughter came home from school and wrote on a piece of paper that she wanted a DS. She wouldn't tell me but every chance she would get, she would show me the piece of paper. A friend of hers had one and she wanted one too. A pink one too.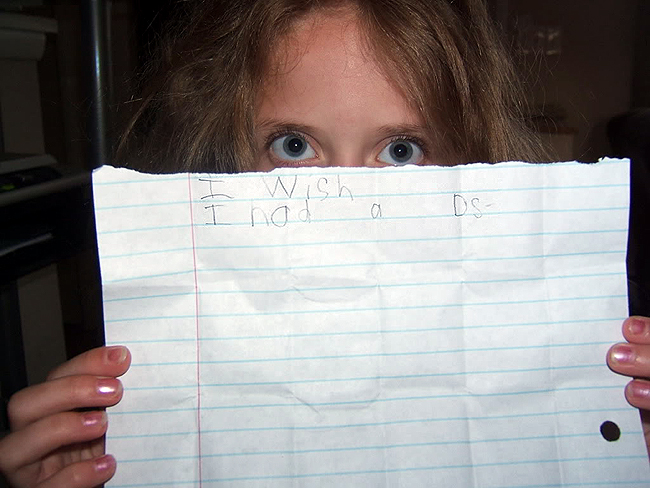 With the way things are with the economy and because money just does not grow on trees around here, I was like no way…. I priced a DS and I'm like, um….NO!!! Then you have to buy games.
So then I got thinking…Normally I take the cash option on all my payouts, so I started browsing my sites to see which site would be best with the custom order and what not.
I received a few responses, and the BEST came from PARADISE FREEBIES. Not only were they the best with the custom order of my choice, but they are the BEST in many ways. For those of you that don't know, PARADISE FREEBIES is available 24/7….and it's not the same 24/7 that most sites claim to be and then never are, they are truly available all the time. They approve and pay orders promptly. I've had times when they would contact me on AIM and tell me to place my order if I haven't noticed that I had a green yet. It doesn't get any better than that.
Ok…so back to my story… My daughter, Julianna really really wanted a DS. I was not giving in and spending all that money on a DS and games that was going to cost me almost $200. So long story short….I found a few games and the Pink DS and I contacted Paradise Freebies. In the mean time, I won a weekly race that they had which gave me an additional $50. So with 2 easy refs and and my weekly winnings, I was able to get my daughter a Pink DS and 2 games.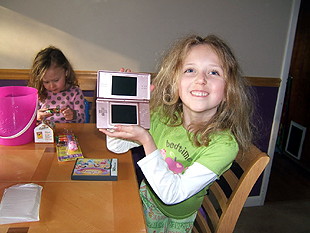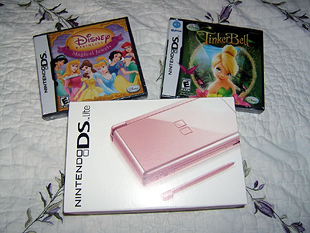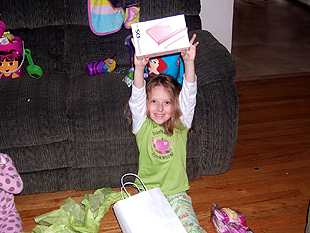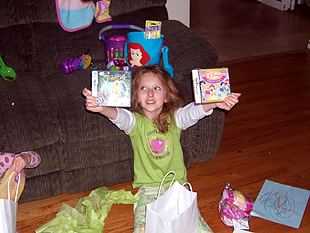 A Special Thank You to Paradise Freebies for being the BEST and putting a HUGE Smile on my daughter's face.
---
My Recommendations
If you are just starting your business and if you don't have a lot of experience in internet marketing it's best if you use the FastTrack MyCashFreebies only together with the
The Total Funnel System Review!
JVZoo Product Feed